Morning arrives and I haven't had a wink of sleep in 3 days. The constant shouting from outside would keep anyone on alert. While most of the people in this city just do what they know best and survive, the protesters made it hard for everyone. They were like the roosters of the Dark City; they'll wake you up like an alarm clock. When it comes to how extreme these protests get, there are different types of protesters.
Most of the city's protesters consist of the type who find our living condition to be unfair compared to the Numbered. Not everyone agreed with this, but going against a mob that size isn't recommended. The other type of protesters consisted of a more organized sort who put posters up to spread their word. They believe that the Numbered should be helping us down here with our problems instead of letting us fend for ourselves and getting the scraps of the supplies that they didn't need. Not that I disagree, but it depends on who you really deal with and whether or not they'll listen in the first place.
The protesters aren't the real problem in this city, however. Recent gangs have formed and have claimed different districts of the Dark City for themselves. The only safe place to be is the central area of the Dark City, near the Castle. I assume they fear the Numbered as we all do. Now fear fills the City whenever the sun goes out.
The recent news states that people down here are going missing. It has been causing wide panic throughout the Dark City in the past few days. In fact, people have been praying to this "god of destruction" for protection against it. Nobody would know who would be the next to disappear. This is why I have dedicated myself to look deeper into this mystery.
After spending my time looking into this myself, I've come to discover that these missing Numberless were indeed members of the different gangs. Their times of disappearances varied; so there wasn't a specific time where this would happen. However, there was never more than one incident a day. Whoever was doing this was doing it on the daily. Was this a Number's doing?
There had been reports of a strange sighting of a mysterious man just before the reports of a disappearance in the same area. Could this be linked somehow? A photo of the mysterious man was taken before the man himself disappeared out of sight. The photo can be found on every shrine used to praise him. I acquired one of these photos to help in my search.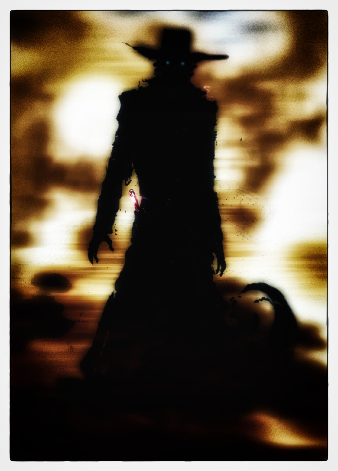 Who is this mysterious man? Is he some type of vigilante? The City needs its answers and so do I. This is now my errand to figure out. I'm going to find him myself.